Hours: M-F 7a-5p
1624 James P Rogers Drive
Valdosta, Georgia 31601 USA
Phone: (229) 244-8301
Fax: (229) 244-8343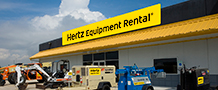 At Hertz Equipment Rental, the ability to respond to our customers' needs is one of the many reasons we have become and remain a leader in the rental and sales of high-quality equipment. We provide daily, weekly, monthly and long-term rentals with available rent-to-own and rental purchase option plans, as well as new and used equipment for sale. Many of our branches are even equipped with a small tools and supplies department, so you can get much of what you need for your jobsite all at one location! With a friendly staff, available pickup and delivery, 24-hour on-call service, we're Ready to Help – so call us at 1-888-777-2700 the next time you need equipment!

Find Rental Equipment

Find Used Equipment for Sale
Driving Directions